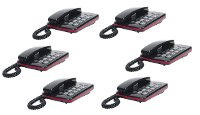 Conference Calls
Service Fee FREE Conference Calls, that's right a conference call service with no monthly bills, no booking required or time limits on your calls and no long term contracts. You just pay a one off setup charge & the cost of your own call.
You simply call 0844 247 7890 (available 24 hours 7 days a week), then when prompted enter your room id and your PIN number. It really is as simple as that.
Apart from the initial setup charge to create your conference call room, there are no charges from us for this service. Each participant on the conference call just pays for their own telephone call.
Order a Conference Call Room now.
Calls to 0844 247 7890 cost 5p per minute at all times from a BT Landline. The cost from other providers & mobiles will vary.